If you're reading this article, you already know that it's possible to monetize social networking platforms such as FB, IG, Pinterest, and many others.
The fact that advertising has moved from old traditional platforms like TV to social media is not surprising at all. All traffic has moved to these platforms. And with traffic comes attention. With attention comes sales.
So, in this article, I'll through all of the ways social media platforms are monetized. But before that, let's look at how social media came to be.
A Brief History of Social Networking Platforms
In the 20th century, the human was first able to develop the supercomputers in the light of technological advancements. At the same time, developers first thought about networking between the computers which later originated the concept of the internet.
Subsequently, the developers introduced the social media strategy to share information, ideas, expressions, etc which later turned into social media marketing.
Till then, a number of social media like Napster, Friendster, Myspace, LinkedIn, Second Life,  Flickr, etc were launched between 1999 to 2004 before Mark Zuckerberg introduced Facebook on February 4, 2004.
In the same year news aggregator, Digg was founded to share stories on science, politics, and many more issues. Later the US-based video-sharing site, YouTube was initiated in the following year (2005). In the same year another US-based social news aggregation, Reddit was launched. Two years later in 2007 a microblogging website, Tumblr was introduced. As modern social media Instagram, Google Plus, and Pinterest were founded in 2010, 2015, and 2017 respectively.
What is Social Media Monetization?
Social media marketing for small business started its mission based on the objectives of business.  Afterward, we received a new orientation for social media monetization.
Social media monetization is an interesting method to make money using the social media accounts. Conversion of dollars depends on the number of followers of your social media account.
When the followers of your social media account have a strong bond with you, they will show interest to buy the product that you are promoting. In this way, you will be able to earn money by social media monetization.
Note that this is just one of the many ways social media is monetized, but it is the main way and where most of the money moves. Product promotion, in the end, is the goal for most marketing objectives and it is where most of the money flows.
How you get paid is where the difference lies.
You can be paid through affiliate income (making money per sale that you generate), per click, action, lead, or view. Or, for platforms like Instagram, you can be paid a fixed price to merely promote a product on your page and give the company whats known as a shoutout.
Steps to Monetize a Social Networking Platform
Now that we've talked about how social media users actually make money, let's talk about how they generate traffic for marketers to promote on.
In other words, let's talk about how to monetize your social media account. There are different social media monetization strategies.
If you want to monetize social media, first be sure to optimize your social media page/profile. Then put fresh content on it as much as possible. Start liking/following other people's pages/profiles. In return, they will also like/follow your page/profile.
In this way when your audience reaches the figure of 10,000 likes/followers, you will be able to monetize your page/profile more effectively. You can monetize your page/profile by social media marketing like selling your own product/service directly, affiliate marketing, content marketing, etc.
Note that this is the main way many people monetize social media but as long as you can think of methods that generate traffic you can monetize it. Traffic is king.
Below is the step by step procedures to monetize different social networking sites:
1.Instagram
If you have an Instagram account, you can easily monetize it following some easy techniques.
Let's discuss how to monetize Instagram. The first step is to grow Instagram followers and become an influencer. Once you become an influencer, you will obtain a huge opportunity to earn money.
Instagram e-commerce option allows you to sell your own product/service using its 'buy now' button. If you are an excellent article writer you can sell your articles on Instagram. In addition, Instagram is a powerful social media to promote your website. You can become a social media marketing consultant by doing Instagram niche analysis.
2.YouTube
Although more difficult, YouTube can actually generate a lot of traffic these days. The difficult part is creating quality content which can be time-consuming. But the rewards can be huge.
Google AdSense gives an amazing opportunity to earn money inserting ads in your YouTube video. To monetize your YouTube channel you have to "Enable Monetization" option in the Channel Settings tab. In the next step, you will need to link your AdSense account to your YouTube channel. You can set your PayPal account or bank account in AdSense account to receive money.
In addition to that, you can also monetize through promotions and if you get big enough companies will offer to get a shoutout from you at the end or beginning of your video.
3. Pinterest
Pinterest is an outstanding network to sell things to people. It can provide a ton of traffic with little work. The only difficulty is the demographic as its users are mainly older females, you'll have to cater your products a little more.
You can promote your blog using Pinterest that lead you to earn money from your blog. Pinterest is an excellent site to grow the mailing list for marketing. This will help you to sell your digital products as well as physical products. You can offer your services through the Pinterest. It is also an amazing place to promote affiliate products.
Moreover, Pinterest is the place to share ideas, images, etc to increase likes, comments, shares that may help you to optimize your Pinterest account. Other ways of monetizing Pinterest include promoting others products, affiliate sales, or even selling pins.
If you are part of a large pin group on Pinterest that has a lot of traffic, then you can sell pins that provide a lot of traffic.
4.Facebook
Nowadays, Facebook monetization is very much famous.
You can publish posts about the products of other companies as sponsorship. Another scope is affiliate marketing. Facebook is a wonderful place for affiliate marketing. If you own any product/service you also can advertise it on the Facebook. In addition, Facebook is also very famous for building email list and lead generation.
Other than having a very popular page on FB, people also like to purchase targeted ads and then sell products on their site. But this can be very expensive and risky. With FB being in the game for so long, it is now quite difficult to gain a good following on FB and monetize it.
Conclusion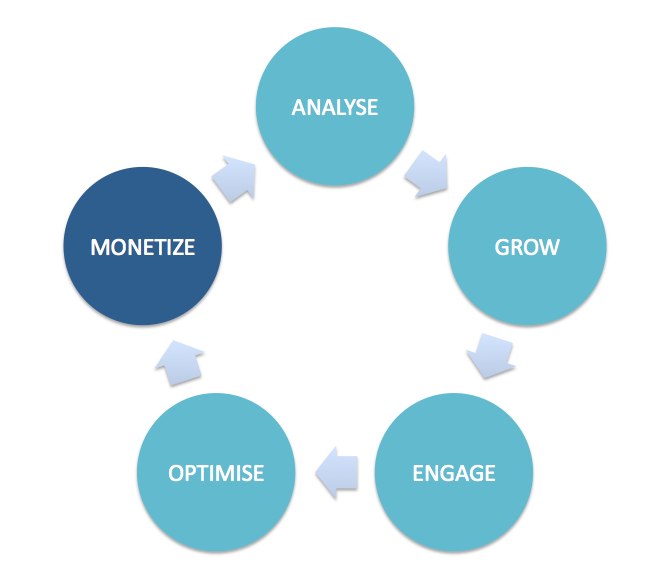 In fact, the technique of monetizing different social media page/profile is very much similar. The above discussion also discloses how to monetize a blog/how to monetize a website. All of the ways taught above were all just ways to gain a following and get some traffic. Once you have the traffic, marketers would love to pay you for it in order to sell their products. Alternatively, you can sell your own products on those pages to earn even more.
Now you can monetize blog/monetize website to earn money sitting at home. In addition to social media page/profile, you can also monetize your blog as well as monetize your website and increase your income. But that topic is for another article unto itself.